Billion Dollar Show. Budgets of Russian football clubs in 2011
The newly started season in the Russian championship traditionally brings a new record of aggregate budgets of its 16 participant clubs. According to the ranking drawn up in collaboration between the experts of Sports.ru and Finans Magazine, the expenditures for the Russian football in 2011 will get ever so close to the billion dollar level and make up for $947 million (with the exception of stadium construction costs).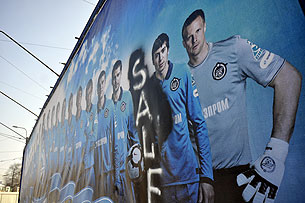 It's a lot of money. A whole lot of money. It's 8 or 10 times more than the Russian clubs have been spending in the 2000-s (and that's a bit disheartening, indeed, that the active, stadium-going audience of the Russian league hasn't grown since 2001). It's a lot more than the 18 Spanish Primera clubs spend today (if we factor out Real Madrid and Barcelona with their global ambitions and revenues) or the 17 Serie A clubs (if we exclude Inter, Milan, and Juventus). It's more than all the Dutch and Portuguese top division clubs combined spend per season. For some, it might have come as a surprise that with the salaries paid in Saturn you could have hired a great part of the Italian national team (and there will still be some money left for several non-Italian Serie A stars). But in the Russian Premier League you won't amaze anyone with those figures: at least eight of its clubs have a bigger budget in 2011 than Saturn had last year. To cut a long story short, you may sneer at the Russian football as much as you want, but bear in mind: a month ago one of the most expensive football shows has begun.
A few words on the ranking. Though this championship will last for a year and a half, we decided not to step aside from the conventional categories and brought you the clubs' budgets for calendar year-2011. As only six Russian clubs have disclosed their official budgets (some of them lower than actual, though), we have based our conclusions of the experts' estimates. These were not external experts; rather, we asked the market participants: clubs' employees and league's officers, players, agents, coaches. Each figure is confirmed from several sources, although one should keep in mind that for many in Russia the budget is not an ultimate figure. A number of teams – like Zenit, Rubin, Anzhi, Terek, Krasnodar – can cross the threshold in case of need (for instance, in the heat of summer transfer campaign).
In addition to the budgets and the names of principal club owners, we have also included the current aggregated squad values according to Transfermarkt, average attendance in 2010, and the 'Borussia Index', specially designed by Sports.ru for comparison and calculated as the ratio between a club's attendance and the attendance of Borussia Dortmund (78,638). For your reference, the budget of the future German league winners makes $65 million (in Russia it would be ranked 7th), while the amount they have spent on transfers during the last 5 years ($71 million) is just a little bigger than the amount Zenit, Rubin, or Spartak have spent during last summer.
1. Zenit St. Petersburg – $165 million
Owners: Gazprombank, Gazprom, Sibur
Squad Value (by Transfermarkt): $221 million
Average Attendance: 20,622 (Borussia Index – 26%)
In 2008, Zenit became the first Russian club to leap over the $100 million threshold in budget terms – and that figure continues to grow. If the renowned Deloitte ranking was based on money spent rather than money earned, the St. Petersburg club might well have been there. Zenit's revenues still make nearly half the revenues of the 20th club from the list – but in Russia they are the largest, if we don't take transfer incomes into account. (In general, Russia's transfer balance is distinctly negative.) According to the estimates by Maxim Mitrofanov, Zenit's general director, the club earns around $60 million: «Depending on the season we earn 15 to 20 million in gate receipts. Another $10–12 million come from the merchandising activities. Another $15–20 million come from the advertising: Nike, MTS, etc. And there are the revenues from the European cups. It is the money from UEFA, which sells our commercial pool. It gives some additional $10-11 million. Zenit's incomes from sold TV rights are around $2 million per year» (cited according to Finans Magazine). This year, Zenit intends to shoot not only at new silverware, but also at some geographical expansion: the club's new strategy says it should fight for new supporters in all Russian regions and earn not only in the local market, however unique (St. Petersburg is the biggest European city with a single professional football club).
2. Rubin Kazan – $120 million
Owner: Government of Tatarstan
Squad Value: $125 million
Average Attendance: 12,967 (16%)
Rubin has been the richest club in Russia before Zenit, and it might have seemed lately (especially after Alexander Bukharov and Sergey Semak were sold) that the authorities of Tatarstan and the sponsors they had appointed have become unable to increase the club's expenditures at the same rate. Anyway, the summer transfer campaign with more than $50 million spent for Salvatore Bocchetti, Obafemi Martins, and Carlos Eduardo has shown that Rubin is still eager to spend as much as it is required. The lack of any well-known purchases during this winter shouldn't fool anyone: Kurban Berdyev won't settle for anything less than Serie A stars, who just aren't available for negotiations until summer. At the same time, Rubin easily guards Cristian Ansaldi from being courted by Milan. Still, Rubin struggles a lot in earning money, lagging behind all other leaders of the ranking. At the end of the day, the allocations from the European cups (a little over $10 million per year) are the only source the club can count on. The match tickets and season tickets in Kazan at 1,200 to 6,700 roubles for the whole season are much cheaper than in St. Petersburg or Moscow. The attendance has been going down for two consecutive years – the likes of Levante, Osasuna, or Cesena have more of their supporters at the stadium, not to mention NAC Breda. Zenit's thirty fanshops are still a thing Rubin can only dream about.
3. Lokomotiv Moscow – $90 million
Owner: Russian Railways
Squad Value: $76 million
Average Attendance: 13,280 (17%)
Rumors that the beloved child of the Russian Railways management would be gradually folded, which have been circulating extensively during the first months after the advent of Olga Smorodskaya to the club, have turned out be greatly exaggerated: the club's money didn't shrink. It is no coincidence that a month ago Lokomotiv has been shopping around for nearly half a dozen renowned forwards being ready to double their German or Spanish salaries. Apparently, the demonstration of the club's transfer power has been postponed to the summer – but that's even better. The tournament is going to be extra-long, and the newly-appointed Yuri Krasnozhan will have the opportunity to get a closer look at the available squad and make up his mind to the fact that $10-15 million can be a price for a single player, not the whole Premier League team.
4. Spartak Moscow – $85 million
Owner: Leonid Fedun
Squad Value: $122 million
Average Attendance: 21,357 (27%)
Leonid Fedun is reputed for a miser, an antipode to Roman Abramovich, among some Spartak fans –but that's nothing more than the power of stereotype and a specific feature of the Russian football economy with its incomes negligibly small by European measures. Fedun already spends more on Spartak than Abramovich has to adds to the Chelsea's budget – according to Fedun it's $70 million per year. More than $40 million have been spent for the summer transfers alone (Aiden McGeady, Nicolas Pareja, Kombarov brothers), and that's not the limit for Spartak. Talking about its own revenues, Spartak is undoubtedly second only behind Zenit. During the last two years it has had the biggest attendance in the Russian Premier League; when playing in the Champions League it's able to fill in more seats against Marseille, than CSKA can fill in against Manchester United. In terms of merchandising and sponsorship Spartak is also only lagging behind Zenit.
5. Dynamo Moscow – $80 million
Owner: Dynamo Management Company
Squad Value: $107 million
Average Attendance: 7,133 (9%)
Half a year ago Yuri Isaev, Dynamo's president, gave the most scathing and, probably, the most accurate definition of the Russian football business, saying it's all about populism, not social responsibility and lashing out at the inadequacy of the current levels of football spending. But having floated for some time in the air, the issue vanished naturally – nobody took up and supported the idea. On the contrary, most clubs have increased their budgets towards the new season. So did Dynamo, despite numerous rumors on VTB's possible exit from the sponsorship. In the Russian football being a sponsor is like being on a submarine: there's no way out, even if you'd like to.
6. CSKA Moscow – $70 million
Owner: unknown
Squad Value: $178 million
Average Attendance: 8,280 (10%)
CSKA has been failing to make it into the Top-3 biggest Russian clubs in terms of budget for 3 or 4 years already, but due to the perspicacity of its scouting department (and, as many believe, the scouting department of Chelsea) invariably has arguably the strongest team in the league. According to Transfermarkt's estimates, trusted by Yevgeny Giner himself, CSKA's squad costs twice as much as the one of Lokomotiv.
7. Anzhi Makhachkala – $60 million
Owner: Suleiman Kerimov
Squad Value: $43 million
Average Attendance: 11,240 (14%)
When Roberto Carlos, the first World Cup holder in the history of the Russian football, came to Anzhi, many have felt both a cognitive dissonance and a culture shock. That's just because they were poorly informed: Anzhi's new owner Suleiman Kerimov is reputed to possess a $17 billion wealth and could afford himself to buy a dozen of Manchester Uniteds at their current market value without any credits – he's not some kind of a Malcolm Glazer. No Russian club has ever had such an affluent owner (unless you think Vladimir Putin was right when he spilled the beans lately about Roman Abramovich). Anzhi's place in our ranking is similar to Suleiman Kerimov's place in the latest ranking of the Russian billionaires, and nobody will be surprised if they continue to grow – and maybe even during this season. If you like, you may consider the rumor about Anzhi's attempt to lure Andrey Arshavin with a $8 million salary to be nothing more than a rumor – but we wouldn't be so sure.
8. Terek Grozny – $50 million
Owner: Government of Chechnya
Squad Value: $34 million
Average Attendance: 8,240 (10%)
Everything that happens to football in Chechnya is being attributed to the region's leader Ramzan Kadyrov, and that was the truth until very recently. Although, since the end of 2010 a growing role in the club has been acquired by Bulat Chagaev, its new vice-president and general director of SovAmericanTrade (that position is the only thing one can google about him). He brought with himself new ties in the football world (being the father of the idea to hire Victor Munoz and later Ruud Gullit) as well as new money. Big money. So big that even Khaidar Alkhanov, the man so used to Kadyrov's generosity, described the situation this way: «We'll have more money, much more money. We'll have top-class footballers here in Terek. And there are no limits at all – our sponsor assured us that he would provide any amount required for a quality strengthening of the team. Even if Chagaev fulfills a half of what he's promised, we will still make Terek a superclub». Overall, the amount we put here is valid as of March 11 and can easily grow up if Chagaev fulfills a half of what he's promised. And don't say we haven't warned you.
9. FC Krasnodar – $40 million
Owner: Sergey Galitsky
Squad Value: $30 million
Average Attendance: 6,526 (8%)
If it wasn't for the breaking news from Makhachkala and Grozny, the unquestionable sensation of the early 2011 could have become Krasnodar and its owner Sergey Galitsky, general director and the principal owner of Magnit chain, one of the leaders of the growing Russian retail trade. He's also very unlike to Malcolm Glazer though he would be able to buy only 4 Manchester Uniteds without credit (Finans Magazine estimates his wealth to be $6.3 billion). Instead of that Galitsky decided in 2007 to create his own club and managed to bring it into the Premier League in three years (although it has been gaining promotions not only with its performances on the pitch). Galitsky is as much a pragmatic businessman as an irrational and phrenetic club owner. The Premier League is likely to achieve in him a player every bit as remarkable, ambitious, and passionate as Yevgeny Giner.
10. Kuban Krasnodar – $35 million
Owner: Oleg Mkrtchyan (Industrial Union of Donbass)
Squad Value: $29 million
Average Attendance: 8,601 (11%)
During the last five years Kuban has had one of the most stable sources of funding outside Moscow, St. Petersburg, and Kazan. Anyway, that never prevented them from playing inconsistent football.
11. Volga Nizhny Novgorod – $32 million
Owner: Government of Nizhny Novgorod Region
Squad Value: $24 million
Average Attendance: 4,342 (6%)
Volga may not look very impressive compared to the teams listed above, but in fact it's a club with a very powerful support from the local authorities – and they've recently added Gazprom to their sponsors' list. There's definitely no reason to be surprised about them acquiring a Barcelona alumnus, former player of Olympique Lyon and Celtic like Marc Crosas – you should rather be curious why there are so few well-known newcomers.
12-14. Rostov Rostov-on-Don – $28 million
Owner: Government of Rostov-on-Don Region
Squad Value: $22 million
Average Attendance: 11,400 (14%)
Rostov is quite a quiet harbor from the financial point of view: they have neither exorbitant ambitions, nor any evident shortage (just some lengthy delays in salary payments last season that coincided with the Rostov's sliding down the table).
12-14. Krylia Sovetov Samara – $28 million
Owner: Government of Samara Region
Squad Value: $23 million
Average Attendance: 13,819 (18%)
Krylia Sovetov is the only club of the league whose budget has been considerably cut down during the last three years – but that's nothing critical compared to the risk of the club's closure which was still very real a year ago.
12-14. Tom Tomsk – $28 million
Owner: Government of Tomsk Region
Squad Value: $18 million
Average Attendance: 11,920 (15%)
Tom has been declaring a nearly $30 million budget for years already – and it's not much smaller than the budget of Auxerre and is even bigger than the one of Mainz ($27.5) which is fighting for a place within the Top-3 in Bundesliga and a Champions League berth. But in Tomsk a decent budget amount is counterbalanced with its inconsistent replenishment. It seems that the players have already got accustomed to the fact that one day the club would run out of money, they wouldn't be paid for some six months and would write letters to Vladimir Putin – to which he would eventually react.
15. Amkar Perm – $21 million
Owner: Government of Perm Region
Squad Value: $25 million
Average Attendance: 11,240 (14%)
After the previous president Valery Chuprakov admitted his inability to find sufficient means for the club's subsistence, his place was taken up by another local businessman Gennady Shilov. The latter has revealed the simple principles of Amkar's economics with a fascinating simple-heartedness: «I will fund the team personally. Our region's authorities will give 300 million roubles, and I will give another 300 million. In general, we've developed a three-year program so we wouldn't have to ask for money every year. There are 300 profitable companies in Perm Region, so we're going to collect some 500,000-1,000,000 from each one of them».
16. Spartak Nalchik – $15 million
Owner: Government of Kabardino-Balkaria
Squad Value: $17 million
Average Attendance: 9,647 (12%)
Since its promotion to the Premier League in 2006, Spartak has been the unchallenged champion in terms of 'points-to-budget' ratio and a silent reproach to anyone who considers that you can't even try playing football without some $25-30 million. In fact, $15 million isn't such a small amount, and Rosenborg or BATE managed to look decently in the group stage of the Champions League with even less money. But by the standards of the Russian Premier League it's a really modest budget, and if Nalchik manages to avoid relegation without Yuri Krasnozhan, that would be regarded as a miracle.
by Dmitry Navosha