In a recent interview with ProSport magazine you have told that you had begun to spend more time on your education. Which of the books you read recently has made the greatest impression upon you?
I will tell you about the last one: now I'm reading the book by Andre Agassi called Open. He writes about his life, what he did wrong, – it's all very interesting and enlightening. He is a great tennis player and a great man, so I advise everyone to read it. The book has caught my eye at a bookstore – and I just bought it.
Have you read that part when Agassi gets hooked on drugs?
No, I have only reached the middle. But he already smokes hash in my chapter.
How to you find the book of the well-known Magnitogorsk writer Dave King [former Metallurg coach, who wrote a memoir called King of Russia about his stint in Russia – Sports.ru]?
Of course, it was interesting, but he has another point of view, another mentality. For example, he mentions being constantly chased by dogs when jogging. It's nothing of a novelty for me, as we have a lot of unsupervised pets in the streets – it's Russia, everybody understands what it means. But for him it was outrageous and he described it. In Pittsburgh it's all completely different. There you won't see a dog or a cat running wild in the street.
Recovering from injuries – is it the most tiresome thing in hockey?
Sure! It's a pain not only physically – it also hurts because you can't help your team. And you are always anxious about what your shape will be after the injury. You feel pressure: it's just about time to get back on the ice, just about time to help the team – and you just unable to do it. Therefore, I advise everyone not to get injured. Take care of yourselves.
Sochi
Have you ever been to Sochi?
No, I've never been there. Therefore, I will aspire to get there.
Do you get irritated by the hysteria around the 2014 Olympics?
I'd say yes, I do. I believe that all this fuss has begun too early – it's still three years left to the Olympics. If we develop a plan of preparations, we will make everything in time. If we make everything competently, we will be ready for the Olympics. There's no need to fuss about and yell at each other. We just have to unite and rally round. Critics should understand that they irritate people who are not to blame. Players are doing their job and it doesn't always look the way the fans and coaches would like to see it. We are also human and we make mistakes.
What did you feel watching the World Championship in Slovakia?
I was excited, I wished our guys to become the winners. There was no such feeling like: if I'm not there, let them lose. I always supported Russia, so its defeats in Slovakia did hurt me. And they didn't play as a team, unfortunately, – that's what also hurt.
Could you explain us why there were so many scandals around Vyacheslav Bykov's national team?
Well, I should ask you about that.
Are journalists the ones to blame?
I don't know who is to blame. But I believe the responsibility is both on the major newspapers and on the yellow ones, who show all these scandalous videos with cigarettes, glasses of wine or beer. It all begins from there. After that the team would lose the match – and they would make a big deal out of nothing. Everyone reacts in his own way. I read all it with humor, I don't care who drank or smoked – it's everyone's own private life. If someone envies, he should envy silently.
How old were you when you tried a cigarette for the first time?
I've never smoked in my life, honestly. I've smoked hookahs, I smoked cigars a few times, but I've never tried cigarettes. Today in general there is a tendency that girls, not guys, are the ones who smoke more often. For me when I meet a girl, one of the first conditions – not the most difficult after all – is that she should not smoke. I believe a smoking girl looks ugly in general.
What do you expect from Zinetula Bilyaletdinov at the helm of Russian national team?
You can't say that now that he came we will win everything. I expect understanding from him, as he is a good coach. I'd like him to do his job professionally and call up the best players to the national team.
Will you stay in the USA or return to Russia after you end you playing career?
It is hard to give a definite answer now. I'm only 24 and nobody knows when I will retire. And nobody knows where my career will come to an end. But I will surely visit Moscow from time to time, at least.
When you got injured, many wondered if Malkin would be able to continue career in general. What thoughts have been flashing thorough your mind when you read about it?
It's unpleasant when such things are written. As well as about Crosby, for example. It was totally out of the question. Kovalev, Kasparaitis, and other hockey players have suffered the same injuries I have now – and they did play after that. Why should I retire from hockey and protect my health? It is clear that hockey is a sport where you can't make it without injuries. But if you recover in a right way, it will all heal over.
Classic
Tell us about the HBO project called 24/7: Road to the NHL Winter Classic.
At first it was unusual, because when we arrived to the locker room, hotel, there were cameras everywhere. Not many, 3 or 4 cameras, but Americans know how to make a good video. During the first days it was unexpected, but then you get used to it and don't pay attention any more.
Stepping on ice, did you realize that all the foul language will be heard?
I don't swear much, so I did not think of it. But all hockey players swear, so, I think, it will not be some kind of a revelation to spectators.
What referee surprised you the most?
I don't remember his name, but when we played at Philadelphia about three years ago, I received a pass from the board, shot a one-timer, and scored. As we were heading to the bench the referee approached me and said that my goal was disallowed, because the goal posts had been moved before that. I was very surprised, because there was no whistle, the game went on. They made a mistake, but it happens, it's the human factor.
Of course, I did remember Bill McCreary. He is a famous referee, everyone knows him. He is the most experienced and sociable referee, he always smiles to everyone. The most smiling ref, I think.
You spoke about critics. How long did it take you to get used to the well-known jacket-loving mister, Don Cherry?
I don't know him personally and I've never met him. But I've seen him on the TV a few times, it's funny when Don Cherry criticizes Russians – Ovechkin, for example. Perhaps, he has a dislike for Russians, he is always in favor of the local players. But it's his show; Don Cherry is popular in Canada as a showman. I think, he isn't so good at hockey as the other critics, he just advertises himself with his jackets and outspoken interviews. Can I imagine myself in such a jacket? Oh, noooo, I can't.
Whom did you support in the NHL as a child?
Like many others, I think, I rooted for Detroit. I watched their games against Colorado, it was impressive. There were two favorite teams: Colorado and Detroit. Detroit was mostly because of the Russians, it was a pleasure to watch the likes of Fetisov and Fedorov.
Stupid question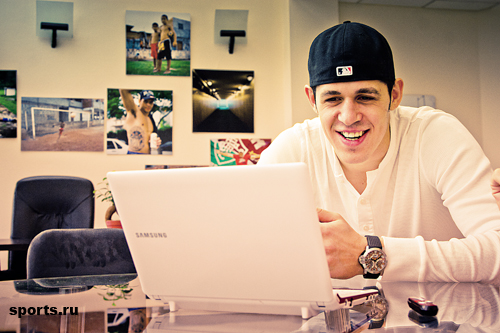 What's the most unexpected or stupid question you have been asked in America?
The most stupid is: When will you learn to speak English?
What is so stupid about it?
Because I do not know the answer to this question.
Have you seen Alexander Semin's interview he gave to the American journalists six years after his arrival to Washington? [Semin didn't know what to answer and told his interpretor: 'F*** knows, think up something' – Sports.ru] Did you encounter situations when you wanted to answer like that?
(Malkin watches the video, laughs loudly, and disappears under the table laughing.) Of course, I did. When there's such a puzzling question, you stand thinking, and they expect a prompt answer from you. You start to fret, pick your words. The same, I think, has happened to Sasha. But it's funny. If it's shown there, it will make people laugh. I've also seen [Andrei] Zyuzin's funny interview, when he played for SKA. He was asked in Russian, but started answering in English.
With whom of the now retired players would you like to play in one line?
I was unlucky to arrive too late to Pittsburgh when Mario [Lemieux – Sports.ru] has already finished his career. First of all, I would like to play with him. I heard a lot of good things about Lemieux. We mostly speak with him about hockey. He also asks about everyday life's trifles: did I find a house, how do I live. It's very pleasant.
Ovechkin once told about his house in Washington: in the evening, when he has rest, he may hear the doorbell ringing – and on the doorstep there will be a fellow in the Capitals' jersey asking for an autograph. Have you had such problems?
He did tell me this story, that's why he even thinks about selling his house. I'm lucky to live in a restricted-access neighborhood, 20 minutes from city center, while he, as far as I understand, lives inside the city. So I've never had anything like that – and I hope I will never encounter it in future.
What NHL club plays interesting hockey, in your opinion, – except Pittsburgh, of course?
Detroit, there are a lot of Europeans there: the Swedes, Pasha [Datsyuk – Sports.ru]. They do a lot of passing, very dynamic. It's hard to play against the Red Wings, because they have fast players, they move the puck quickly. But watching this kind of hockey is a pleasure.
Prison style
What are you good at, except hockey?
I love ping pong very much. I believe, I'm quite good at it. We had such a sports neighborhood in Magnitogorsk, there was a couple of iron tables and we played on them all day long. I can't tell that I have some kind of superskills, but I can handle the ball.
Why is your restaurant in Magnitogorsk designed in a prison style?
I don't really know. We were sitting together with my friends and started fantasizing. We were 20-year-old guys, so in the end, we got phased out of our minds and thought it all up.
Do you have a pet?
I have a cat in America and in Russia it's been five years that I have a dog. The cat has appeared in my house right from street – my girlfriend saw an abandoned kitten near the door. An ordinary mongrel cat.
What is more important for you: to win the Stanley Cup or to win the Olympic Games?
Now that I have already won the Stanley Cup, the Olympics are more important for me. I hope, I will be in Sochi, we will try to win there. But another Stanley Cup won't do any harm, of course.
What do you make of the Russian Penguins' fans who watch your games at night or early in the morning? Are we crazy?
Yeah... I know people who watch hockey at 4 in the morning, while at 9 they already have to be at work. They try to have a sleep in the evening, so that to be at least a little more fresh. I feel a respect for them – not everyone can support his team in such a way. I take my hat off to them.
Russian footballers, playing in Europe, say that the most discussed topic among their teammates is the salaries in Russia. What do hockey players in the NHL talk about when it comes to Russia?
They still ask me if there is mafia in Russia. It's what interests them the most. Do people carry guns in the streets? Do they shoot each other? Of course, I don't tell them everything, but I say that it does happen. They are mostly interested in mafia shoot-outs, which are well-known since the 90's, and people there think it all remained like then.
What surprises you when you come back to Russia?
I don't know if the local drivers noticed it, but the attitude to each other in Russian roads became better – so it seemed to me, at least. For me it was a surprise. When I drove by myself about four years ago, everything was different: people shot each other, swore at each other. It's good that the things have changed now.
Right between his eyes
Do you remember your first fight on ice?
I didn't have long fights, they all lasted for 10-20 seconds. Adrenaline rushes to your head and you notice nothing, you don't feel pain, just swing your fists and want your opponent to fall. My first NHL fight was against Zetterberg, while in Russia I fought once or twice, but we were separated quite quickly.
What sport is the more manly in your opinion, football or hockey?
I could answer if I played both of them professionally. In football it also happens that your get hit on your feet, it's also unpleasant, they have less protection. But of course, I don't like the simulations. In hockey they are not so frequent, nobody falls covering his face with his hands. If there's an injury – there's a real injury, the player goes to the locker room immediately. In football you get injured, lay down for two minutes, then you get up and continue to play. But if we speak about rugby there's no doubt: that it is the manliest sport. It's not everybody's thing.
Who annoys you the most on the ice in the NHL? Someone whom you'd gladly hit with a stick right between the eyes?
First of all, it's the referees when it seems that they judge against you. And there are also such players like Avery and Ruutu who try to get to you all game long. Then you feel like hitting them.
What do you think about Matt Cooke?
We are lucky to have him at Pittsburgh. If he played for another team, he would provoke us. He uses what he is good at: blooding up someone. He gives us power plays and we score goals. When Cooke came to the team, we won the Stanley Cup. Therefore, I'm all for him to stay at the Penguins. Of course, sometimes it happens that Cooke goes too far – I don't know whether it's his temper or some kind of rage – he gets overwhelmed by his emotions on the ice. I hope the incidents like the last one will never repeat. If we have won the Stanley Cup with him, it means he is a good player.
Please, name the best five hockey players and goaltender of today.
The best goaltender is Tim Thomas, he has had a fantastic season. In defense – Lidstrom and Chara. Niklas has won the Norris Trophy for the 7th time, let's face it, Chara has been progressing during the last years, he plays for 30 minutes and is still not tired. And for the attack I'd pick Ovechkin, Crosby, and Datsyuk. Pasha and Sidney are both center forwards, but on this occasion, I think, someone would agree to take a place on the wing.
What pair of defenders is the hardest to play against in the NHL?
It's Chara once again. It doesn't matter who's his partner on the ice, – when he plays against you personally, it's very hard: it seems like you already went round him, but his long stick helps him. Or near the board he can put you down on your knees with one hand. Lidstrom's manner is different, he chooses his position very well. You have just received the puck but he dispossesses you immediately.
A bit of fetish: is there is a stick especially precious for you?
I was 10 or 11, when the Romazan memorial tournament took place in in Magnitogorsk. After a match between the Czech and Finnish teams my friends and I stood and asked players to give us their sticks. I was lucky: one Finn, whose name I don't remember, gave me his one. I cut it shorter, went to a tournament – and became the best goalscorer there, with that stick. It suited me perfectly and the bend was almost mine. A strong wooden stick with stripes. I've been using it as long as I could, until it broke. Back then I did not think of keeping any sticks: who knew that someday it could feature in a museum and someone would like to see it.
Russian football player Dmitry Bulykin, who was at Sports.ru office three weeks ago, told how passionately he loves motorcycles. What's your attitude to the two wheels?
When I see people riding motorcycles, I envy them. I'd like to learn to ride very much. But at the same time I understand that it's unsafe, therefore I will wait a little. I have a possibility to learn, but now, as they say, honey is sweet, but the bee stings. Therefore, I now prefer my four-wheel friend.
What kind of a friend do you have now?
Porsche Cayenne. In America a popular car is the Range Rover – many of our players drive it, I also used to have it. But our tough guy Eric Godard drives a car manufactured in 1967 – I don't know its name. It even doesn't have a proper seat, just some kind of a bench. He bought it recently when we were already in the play-offs. I guess, it's a summer option.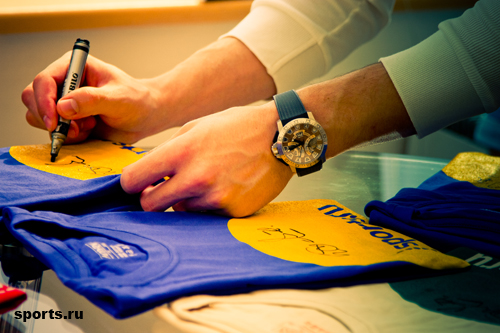 by Andrey Santalov, Yury Dud, and Nikita Koroteyev