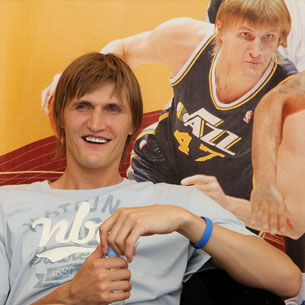 Blogging
Why did you stop blogging at Sports.ru? (BArt)
Frankly? I'm just a very lazy guy. I can't be bothered to type or dictate something. When I was younger, like 20 or 25, it was an easy thing for me. But now that I've become older, I have more things to take care of – I've got my kids, my family, and I'm just too busy for blogging. I don't even answer my friends by e-mail and writing an SMS is a pain for me. Everything that has more than five words requires some time, but time is the thing that I lack the most. I prefer spending it with my children, rather than sitting in front of a computer.
Are you still a big fan of computer games?
Yes, but only during the season, when we have away games, when I travel. In the summer and during weekends I spend 24 hours a day with my children and wife.
What is the latest gadget you have bought?
I've bought an iPhone for some reason, though it's awfully inconvenient for SMS typing. Therefore, I have put my main SIM card into the BlackBerry, while the iPhone is only used for Russian calls. The thing is that I have a MacBook and I'd like to keep all my contacts in the same way, both on the Mac and on the iPhone.
Are you are going to continue your career in Europe? (ivan____)
It's mostly out of my hands and depends on the teams that would like to have me in their squad and are ready to make an offer. I wouldn't like to lose my shape if the lockout lasts for a long time. Now I feel well, by the time the European championship starts we will be at our peak – and it would be embarrassing to stop playing right afterwards. Even if you train constantly, it's not the same thing. Where will I play? Most likely, in Russia. I'm only interested in two teams: CSKA Moscow and Spartak St. Petersburg. I'm highly respectful of all the others, but I began my career at Spartak and played for CSKA, so it will be logical if I play for them.
How can Spartak St. Petersburg attract Andrey Kirilenko? They won't even play in the EuroLeague.
I don't care about the European cups at all; it's my native team, that's it. If I returned to play in Russia, I would do that with my native team, not the one that has bigger ambitions and wants to win something. Anyway, I will try to make it so that my team would play as good as possible. But I will repeat, nothing is clear yet, now it's all at еру negotiations stage, a lot of options have to be taken into account. Even without a contract, I am still in the NBA system, and it's a little bit hard for the teams to sign a player knowing that he will leave in 2 or 3 months.
Spanish football player Joseba Etxeberria came back to Athletic Bilbao to play for free. Would you agree to that for the sake of your native team?
Such things happen, when a player's career is in decline. I can only one say one thing: money is not that important. If Spartak-Primorye [a Vladivostok-based club – Sports.ru] approached me and said: «Andrey, we'll give you 10 million a year, come play for us,» I would think it over three hundred times. Because money isn't the only thing that matters. It's too far for my family, it would be inconvenient for me, my children would have to get used to a new school, I would feel uncomfortable with constant flights to and fro, I don't want to live away from my family... So, you see, that's what I meant when a spoke about a lot of finer points.»
Sausages
A Russian man has been traditionally notable for his great physical power (that is to say, the muscles). Without muscles you have no place in modern basketball, especially if you are a center. But compared to the Americans we look quite feeble. Why is is so? (НерпЪ)
– We look quite feeble, I agree. But looking at the training of a guy who starts playing in college and continues his career in the league, you can't imagine how much time they spend in gyms in America. A hundred times more than we do. People don't only play basketball, but also work out regularly, whole programs are developed there. We lag behind in this regard, we try to play more with our talent, we want to prevail with tactics, approach, 'intelligent' basketball, I'd say. In America it's purely one-on-one game – you have to be stronger, faster, jump better. It's also the nature that favors black players making them physically stronger than we are – that is a scientifically proven fact.
Do you still have a motivation or you're already done? (фанат баскетбола)
Of course, I have! Speaking about basketball, I think I have enough gasoline to go for some other 3 or 4 years. After that my physical conditions won't allow me to match the level. I've already started noticing it. I need additional efforts to play in defense. It used to be easy, but now I feel I need to force myself to train more. I never did it until I turned 25, maybe, on some rare occasions. But now I understand that if I don't train today, tomorrow I will simply stop running at some moment.
I never won the Euroleague in Europe, I didn't become champion in the NBA, therefore, I have more than enough motivation. But my motivation is about my team's performance. It's very pleasant to win individual titles, but if you lose this award is no more than a knickknack on the shelf.
What is most amusing trophy on this shelf at your place?
There is a cup which, to tell the truth, I have stolen. CSKA were taking part in the Real Madrid Cup in Spain. We defeated the hosts and as I was the youngest in the team, Sergey Panov gave the huge cup to me, telling that I ought to carry it and then pass it to him personally when we arrive at the hotel. However, later he forgot about it and I took the cup to my place. Then we agreed that I should bring it to the training, but this time my memory let me down. So it's still standing in my house.
When was the last time something was stolen from you?
I had my car stolen about 5 or 6 years ago. It was the first day I returned from America. Welcome to Russia, I say! My father-in-law gave me the car for one day, just to get home. Everything was fine, we came home, but left it under our windows light-heartedly. Then I wake up in the morning – and see some Honda in the place of the Mercedes. I thought, maybe, I parked it somewhere else? I click my alarm system – nothing happens. It starts to seem strange, cause I don't drink...
Was the car insured?
No, it had no insurance. Thus it became the most expensive rent-a-car in my life.
Are you considering options with other NBA teams? (Valery Nechaev)
I will consider any option, but Utah still have priority. I've spent ten years with this team, it feels like my home. Sometimes I meet American fans and at first they say to me: «Hey, why don't you move to our team?» But then they go like: «Hmm, listen, it will be some kind of a strange thing, we can't imagine you out of Utah, and you are associated with them only». It will be also hard to switch teams from my family's point of view who have got used to this city, we have settled well there.
Even if there will be an offer from a contender, such as the Lakers or Boston, it would be quite hard to come there when everything is ready. There is a difference between going all the way with the team and joining is a team who are already prepared to battle for the title. I would get more excited, if I won the league with Utah. The ring isn't an end in itself for me. In situations like that everybody is happy, but you understand: «Damn, there's still something wrong about it».
What's the most unexpected thing you had to advertise?
In Russia I was offered to advertise some kind of sausages or wieners. And leather jackets, by the way. Some friends of mine offered it, but I refused politely. When you advertise something, you get associated with this product. I didn't want to be associated with a leather jacket. Actually, I still like wieners very much, but I just didn't want to go out and shout: «Eat Moscow wieners!» and «Meat Factory Number 5!»
Turkish economy
It was very nice to see you at the recent streetball event NBA 5 United! I was particularly amazed for how long and how patiently you have been signing autographs. It is worthy of respect! My question is the following: the streetball movement is now growing very fast in Russia. Each of the Moscow open championships features more than a thousand players. What do you think of streetball and do you plan to help this movement somehow? (lexad)
I'm very positive about streetball, I like this sport a lot. The only thing is that I'm a little bit scared to play it, because the guys battle each other on asphalt like crazy and every fall may cause an injury. It's a really tough sport. When I was a child I took part in many tournaments like these, in particular in St. Petersburg's Palace Square.
With whom of the great players – still active or retired – you would like to play in one team? (Arturo Gatti (R.I.P.))
I'd like to play with Pau Gasol very much. He is a friend of mine, we have often discussed this, it would be interesting for both of us. With another one of my dream teammates I do play together in one team from time to time, it's Vitya Khryapa. Others? I have to think for a while...
Numbers 1 and 2 are still free.
I'd try playing with Steve Nash. Though I've already had a chance to play with John Stockton, so let's consider I have filled in the point guard position. But my most favourite teammate with whom I feel most comfortable is Mark Jackson. He joined us when his career was already coming to an end and he could see the court with his eyes shut, his passes were magnificent. It's not for nothing he is one of the association's top-3 assistants of all times. Meanwhile, I don't know whom to take as number 4. I've never had an obsession of playing with someone, it was always more interesting to compete against some strong players.
Who is the greatest player in the NBA history according to Andrey Kirilenko? (Air MJ)
Michael Jordan, no doubt. Not only a brilliant player, but also a person who has taken basketball to a new level having made the NBA one of the most popular professional leagues in the world.
Do you know him personally? (Brent)
So-so, just because all the people in the NBA communicate among themselves.
Quite a good company is now being formed at Besiktas: Iverson, Deron Williams, Kobe. Didn't you think about joining them? (josemourinio1989)
The Turkish economy is now the strongest in Europe, isn't it? I doubt they will sign Kobe and there are big questions about Deron because of all these scandals with fixed matches. It would be interesting for me to play for a strong European club, to battle for the Euroleague title. Or it should be my native team, playing for the home fans would be cool. Unfortunately, CSKA have already completed their squad, so Spartak is my favorite option now. But you shouldn't think I'm just chasing a contract. If I don't get it, it's not that bad, I will spend more time with my family.
WoW
What's your attitude to football? Don't you think that many other sports suffer because of such general but unrequited love the businesspeople and state officials have for football? After all, those funds poured into football are just enormous and can't be compared to the money invested in basketball, though our basketball players are usually more successful. (krackazyabra)
It is sad, but you shouldn't forget that football is a No.1 sport played by people of all ages. We all support our national team, root for the Russian teams in the European cups. The government and private companies want to support football clubs because heads of these companies most often play football. Basketball is quite a difficult game, it needs many skills, you can't start playing it from point zero. You just shouldn't compare the popularity football and basketball.
During the time you spent in America, did you develop a liking for any local sport? Baseball or, maybe, American football?
I never watch baseball, but I sometimes turn on American football, sometimes you can come across some interesting matches. I watch it because the players there are so athletic, it's an unforgettable show when such big guys run into each other at full speed. The rules are very complicated, but it reminds me of rugby. I don't watch all the games, only the most exciting play-off matches. And the Super Bowl, of course.
Did Mikhail Prokhorov seek advice from you when he was going to buy the New Jersey Nets?
Absolutely not. He is a grown-up man, he loves basketball, and doesn't need my advice.
Did you meet personally?
It seems like we did, but it was definitely some kind of a short conversation. We literally exchanged a few words.
Your tattoo from World of Warcraft has raised a furor...
It's not a tattoo from WoW, it's just this game was a revelation for me, it was something I had been looking for a long time. So you can't say I've got myself a paladin tattoo. It's just a person who inspired me and the game became the thing in which I wanted to express myself long ago. It has given me... 'inspiration' [Kirilenko says this word in English – Sports.ru]... How do you say it in Russian?
'Vdokhnovenie'.
No, it's the wrong word. Let it be impetus. The game has given me an impetus. And speaking about the tattoo I just wanted to make myself a gift for my 30th birthday. I have never regretted it since. Until this age I never thought I would ever get myself a tattoo. But now I felt I was ripe for that. I didn't want a small picture, being afraid it won't be visible enough. I have a friend whom I know since school and long ago we agreed that if we make a tattoo that would only be together. So he arrived to America specially for this purpose and also got himself a tattoo. On his shoulder, though.
How did your children react when they saw your back ornamented for the first time?
They were astonished and just went bananas with joy. «Daddy, that's awesome!» They were just happy. But in general I don't care about anybody's criticism. Seven or eight years ago I learnt not to pay attention to what they write about me, I don't monitor it on purpose. Sometimes my friends come to my place and start telling me – with their eyes wide open – that something horrible was written about me somewhere. I always have the same answer: let them write what they will.
Gays
What does upset you in your life and how do you deal with it? (Antoha_Mad)
In Russia it's our television that makes me sad, they only show crime and conflicts. How can a nation be healthy if it only sees crimes on TV twenty-four-seven? Someone was killed on his doorstep yesterday, a policeman was found to be a criminal today... You watch the TV and you get only the negative poured out on you. How will our children grow with that? In the States they also have it, of course, but there, as a rule, you will more often see sports, series, movies, talk shows – people get entertained. But here you always get gory stories, no matter what channel you turn on.
Recently, we interviewed Vladimir Gomelsky [Russia's most famous basketball commentator – Sports.ru] and he told us a story about Richard Jefferson allegedly being gay.
I've heard about it. I doubt it, frankly speaking.
Are there other gay players in the league? (vitalek)
I've only heard about one, John Amaechi, who has been playing with us for two years, but it did not affect anything in any way, it didn't show. I've heard about it before and was a bit wary, but the guy didn't express that in any way. It would be weird if a started offending him straight away and saying something like: «Hey you, get away from here». He was an absolutely normal man. Only one moment alerted me a bit: I was giving a New Year's party at my place, invited everybody, him including. He told me he would come with his partner. I didn't make much of it. OK, let it be a partner – after all, who knows who he means, maybe his wife or his girlfriend. But even if I knew he was gay, I would still invite him. After all, what do I care?
Did he come?
No, in the end he sent a man who brought a bottle of champagne and apologized. He told John couldn't come.
So you are tolerant to such things?
Absolutely. Each person has his own life, why would I try to get inside his head? Everybody has his own problems. I know I'm not gay, that's enough for me.
What do you think of planking?
Is it a new kind of fun? I know nothing about it, I'm not interested.
Daughter
You are one of the few public persons in Russia who dared to adopt a child.
I am happy, I don't have any divisions among my children, frankly speaking. We are delighted with our girl, she is so clever and nice. I think it's some kind of a blessing for me. The only problem is that it took us nearly as long as giving birth, around nine months. So now we can say that we did bear our third child.
But I'd like to mention that there should be an individual approach for each person. It's wrong to say: «You have got money, but didn't take a child, shame on you». It should be a well-considered, balanced decision of a father, a mother, and their children. Not the example of some other people, but the conclusion you have come to by yourself. We wanted a third child very much, but, unfortunately, could not have it due to purely physical reasons.
How did the elder children react to it?
They're delighted, they adore their sister, and will do anything for her. They know how she had got into our family, and have no complexes about it.
Medal
And the last one. Tell us frankly: what medal will you bring from the EuroBasket?
Hopefully, the gold one. Our goal is to qualify for the Olympic Games, which means the participation in the final game. As my coach at the cadets national team said: «The main thing is to reach the final – and then let the chips fall where they may».
by Yury Dud and Nikita Koroteyev